| Zahra Hussain
LVS 2017 began with an orientation session, "Potential socio-economic and environmental threats in Gojal region; a scoping session" in Islamabad which was attended by participants and speakers invited from different organizations and faculties. The session was divided in two parts where the first part titled Threats, Hazards, Disasters; a closer look at Gojal was moderated by Abdullah Aslam. Representatives from MET department gave a talk titled Potential Threat of GLOF in GB, which highlighted how climate change is affecting Glaciers in Pakistan. The second talk was given by Ex-Inspector General Forest, Dr Bashir Wani where he spoke about impact of climate change induced natural disasters and GLOFs on bio-diversity and livelihood in Bagrote Valley which gave an insight on how GLOFs are affecting communities and the strategies that have been put in place to manage it. Meher Aftab from Focus Humanitarian organization gave an overview of hazard mapping and community by Focus Humanitarian in Gilgit Baltistan. Dr Kausar Naqvi gave the fourth talk where he introduced China Pakistan Economic Corridor project and what it means for Pakistan and Gilgit Baltistan in particular. These talks generated a healthy discussion amongst participants and speakers on issues of climate change, disasters, inclusion of communities in decision processes and the negative and positive impacts of CPEC in Pakistan. The second session titled, Nature – Community Linkages; exploring practices of conservation, was moderated by Zahra Hussain. This session focused on another important aspect that we aimed to research whilst at the Visiting School. This is related to how communities respond to, involve in and are affected by the various developments in Gojal valley. These developments are not only social and economic, but also environmental and human. The first talk was given by Rajendra Suwal from WWF in Nepal via skype on Eco tourism in protected areas; trends and future prospects. Aftab Rana from Sustainable Tourism Foundation Pakistan (STFP) gave the second talk on Tourism and Sustainable ways of managing it. Fatima Yamin gave the third talk on disasters and community development where she shared her experience of Bagrote Valley. This session was closed with discussion on how CPEC may affect tourism in GB and if the local population is ready and equipped with necessary knowledge and training for it. This session ended with dinner. LVS core team and participants loaded their luggage on the coaster and set off for Gulmit via Karakoram Highway at around 10pm. The team travelled through the night and stopped for breakfast in Beshaam. The journey was interrupted by a landslide, which got cleared up in 40 minutes after which we set off again, travelling through Kohistan and eventually stopped in Chilaas for lunch. The journey finally ended at Gulmit in the evening where participants had dinner, received their bedding packs and settled in the accommodation.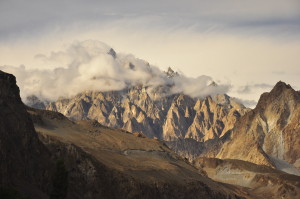 The next day started with breakfast in the garden with a panoramic view of Cathedral Peaks, also known as Passu Peaks. With a round of introductions, participants were divided in groups and sent in North, South, East and West direction to orient them in the town and produce a map upon their return. After two hours of walking and navigating, the participants returned and drew maps. Afternoon began with Creative Participatory Action Research Workshop, which was conducted by Zahra Hussain. Popular research methods used in sociological and anthropological research was discussed in the beginning and then the importance of visual and creative research methods were highlighted leading to a discussion on participatory research and its importance. Participants were assigned a task to develop creative methods for carrying out their research in the field. After this assignment, the whole team enjoyed tea and pakoras and gathered back in the workshop room for Audio-Visual Cultures workshop, which was conducted, by Zahra Hussain and Fatima Hussain. This workshop highlighted the field of visual cultures and ways and acts of seeing and engaging with the natural, social and cultural environment. This workshop assigned the students to develop keywords and research questions around the theme of environment for the next day's field research in order to map cultural practices of Ghulkin, Gulmit and Hussaini. Day 4 began with a cloudy morning and warm breakfast; participants boarded the coaster and were given an overview of Gojal valley identifying glaciers and villages that they would be working around for the next ten days. Groups were then dropped off at Hussaini, Ghulkin and Gulmit to be picked up later in the afternoon. Once field research was carried out, groups got back for lunch and convened in the workshop space to consolidate their research and prepare presentations. The groups presented their work in the evening, which showed the variety of data found in the field. Since Gulmit and Ghulkin are age-old settlements, the elders discussed many cultural practices that have transformed and diminished over time due to development. The day ended with a delicious meal under a much clearer sky. Next morning began with Built Environment workshop conducted by Zahra Hussain and Abdullah Aslam. The workshop focused on Christopher Alexander's pattern language and how it maybe useful for understanding and engaging with a particular study of regional architecture. Assignment for this workshop required participants to develop field research form and categories for studying local architecture. After lunch, participants were taken on a leisure trip to Altit Fort in Hunza where they spent the afternoon admiring the fort and gardens and enjoying local food. Evening was spent consolidating field research form and an early dinner to be well prepared for next day's fieldwork.
The morning began with an early breakfast and Mountain Economies session conducted via video recording by Neelam Raina. Six participants were engaged in field research for this workshop while the others formed groups and set off for their respective villages for field research. Participants were given packed lunch which they enjoyed with tea in local's houses. Participants were picked up around 4pm from their field locations and brought back to the accommodation area for tea and pakoras. After a quick rest, they reconvened in workshop room to prepare the presentations. Since each participant had collected considerable amount of data, it took a while for all of that to be categorized and added to the sheets. At 11pm, the groups were in a position to present their research, which lasted until around 1:30am in the night. The groups had collected built environment patterns from three villages that included macro and micro scale strategies and techniques used by locals in planning land use and architecture design of houses and community areas. Research was done meticulously and participants were able to collect more than a hundred-pattern language segments that later architecture students compiled. Field research showed how architecture responded to the living customs, climate and beliefs of the people and area and how local material was being improvised presently. Participants found that younger generation is importing designs from urban centers but these new building design and techniques are not entirely suitable for the climatic conditions of the valley. A lengthy conversation was generated on this topic, which gave food for thought to architects in the group.
Next morning began with breakfast and Disaster Management Workshop conducted by Somana Riaz. The workshop designed on disaster risk management aimed to identify various hazards in Gojal valley and their impacts on people and their livelihoods. It also focused on highlighting different factors that contributed to vulnerabilities of mountain community. Different groups were assigned the task of working out the hazard profile of the area, physical, social and economic vulnerabilities of the affected population and existing capacities to cope with frequent disasters. Gojal valley is prone to multi-faceted and frequent natural hazards that often claim precious lives and livelihood sources of the local community. The area remains vulnerable to a number of hazards throughout the year with changing intensity and risk level as seasons change. During winter months harsh weather with high speed winds in November and intense snow spells in December and January raises a potential threat of avalanches to the downslope settlements. Spring and summer brings the risk of slope failure as snow cover begins to melt in April and May. Summer months bring intense spell of monsoon rains from July to September that triggers the risk of land erosion; flash flooding and debris flow in the valley. Intense summer heat also causes high rate of glacial melting which then creates a risk of Glacial lake Outburst Floods (GLOFs) in Gojal valley. Hussaini particularly is at higher risk of GLOFs due to its location.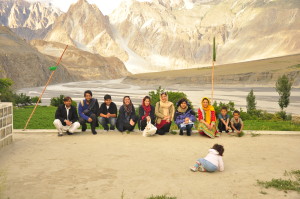 Since participants had been working hard in the field for three days, a special BBQ meal was prepared for the team followed by local music and dance performance that was thoroughly enjoyed by the participants. Next morning began early with a briefing from Saeed Abbas from WWF at Borith Lake, where he emphasized on the bio-diversity of the area, variety of birds found here and the impact of Karakoram Highway/ CPEC on natural environment of Karakoram National Park. Participants walked around the lake and returned in the afternoon. After lunch, participants were sent on their individual research slots. Evening was spent discussing and steering individual project proposals. Next day, participants were sent for individual field research after which they were taken on a leisure trip to Baltit Fort and Ganish Village. After returning in the evening, Mountain Economies Research group was asked to present their research.
Two elders from local community attended these presentations, which generated a healthy discussion amongst the local, and visiting participants. The entire next day was dedicated to individual field research and tutorials slots so that participants get ample time to research on their own, collect data and formulate their research questions and findings accordingly. 11th July brought local festivities in Gulmit Polo ground which participants were invited to attend. Late afternoon and evening was spent in preparing presentations for the final day. Since 12th July was also filled with local festivity programs, the local people could only join in the presentations in the evening. This gave participants more time to work on their presentations and have it ready and set-up for the locals. Twelve local people from the Local Council, education sector, local development organizations, numberdaar and elders joined us for presentation and listened intently to the presentations given by LVS participants. This four-hour session ended with healthy discussion about the problems and opportunities that these valleys encounter and how might we pave way for sustainable development. While all projects were appreciated, some of these were selected for collaboration with local development organizations. Local guests and participants were treated with yet another BBQ meal ending with two hour-long bonfire night and local music performances. Early next morning, participants boarded the coaster and set off for Islamabad via Babusar Pass, exploring yet another beautiful valley of Northern Pakistan.