By Abdullah Aslam
photo credit: Hala Bashir Malik
The Attabad Lake story begins when on Januray 4th 2010, approximately half of the Attabad village, northwards of Hunza city on the Karakoram Highway (KKH), situated above the Hunza River, collapsed into the valley below. This had the effect of destroying the village, blocking the KKH, and, most critically, damming the Hunza River. As summer approached, the meltwater inflow into the river increased, dramatically increasing the dam's length, until water overflowed from the landslide rubble. By this time, the lake was 150 feet deep, inundating 13km of the KKH, and gobbling up 900 kanals of arable land, displacing 457 households in all.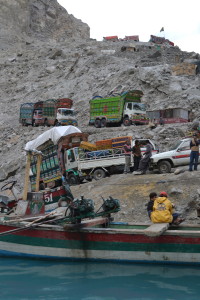 Almost 5 years on, many IDPs are still without a permanent home. Administratively, there has been no solution for their plight, as almost all habitable land in the region is already inhabited. However, due to the KKH's importance vis-à-vis Pak-China trade (and for Chinese trade in especially), the submerged portion of the KKH is being substituted with a 9km tunnel and multiple bridges. Recently, the Fisheries and Wildlife Department in collaboration with AKRSP have released 20,000 trout into the lake, with a view to licensed fishing in the next few years. There are also plans to build a PTDC motel, exploiting the view of such a large and pristine body of water.
Given the status quo, it is largely possible that the IDPs will remain IDPs even while commercial and touristic activity increases, with extreme potential to damage the socio-cultural and environmental fabric of the area. It is therefore imperative to find innovative approaches to the problems of housing the IDPs respectfully and permanently, while making sure that they have a stake in tourist activities in the region, which themselves are not short-term cash grabs but sensitive to their context and that over time add value to the area.
Objectives
The project aims to:
Provide a model for resettlement of IDPs in a land-scarce, geologically unstable mountainous region, in doing so breaking from traditional approaches to architecture and land-use in the region
Develop a long-term tourism masterplan for the area, with a view to minimising environmental degradation and maximising its social and financial sustaibablity
Embrace and evolve vernacular techniques of construction and planning, keeping in mind the changed costs and availability of labour and materials as well as the shift to a service economy and currency-based capitalist market
Scope of Works (tentative)
1. Creation of housing for 30 households in the Shisket village. Inclusive of any land-reclaiming activities.
Each house to have space for 6 people, 10 livestock, 1 vehicle, with at least two toilets and agricultural potential to feed a family of 6.
School and community centre in the Shisket village.

Student strength at least 125 children
Medical centre with 5 beds
Conference/training room/areas
Agricultural centre
Local council office

PTDC motel

20 rooms + 5 huts
Restaurant for 50, lounge, reception, kitchen and allied facilities
Private dock, with secure boat storage

Tourism masterplan for Attabad Lake and nearby villages.

Identification and provision of support for all potential tourist activities
Identification of sites of interest (archeological, historical, natural) and development and regulation of tourist activity around them
Environmental safeguards, specifically preservation of flora and fauna, sanitation and sewage systems, waste-disposal.
Client (if any)
Internally Displaced Persons (IDPs)
Agha Khan Development Network (AKDN)
Pakistan Tourism Development Corporation (PTDC)
Site Location
Attabad Lake, Hunza-Nagar, Gilgit-Baltistan, Pakistan.
There are two separate sites within the project:
The village of Shisket, especially the shoreline; artificial land to be created (primarily) for rehabilitation of IDPs.
The spillway area; to be used for a dock, restaurant areas, and PTDC motel.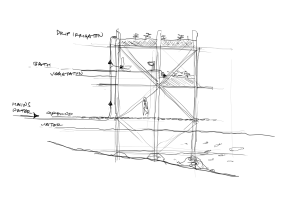 Research Aspects
5.1. Water-borne Architecture
Floating homes and communities, reclaiming land lost to water, structural systems, disposal of waste, challenges
5.2. Upgrading the vernacular
Summarizing the vernacular, reasons for gradual decline or stagnancy, socio-cultural changes and requisite architectural demands, improving technical aspects.
5.3. Sustainability in tourism: social, cultural, environmental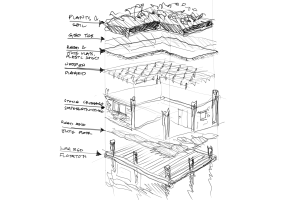 Examples of tourism gone wrong: Thailand, Murree, etc; balancing short-term needs with long-term value addition; damages wrought by tourism to local culture, society & environment and how to mitigate them; eco-tourism; integrating tourism into local economies, creating robust cultures in face of assault from commercialism; the Bhutan model.
Available Resources
USGS, UNOSAT and Google maps
Research papers on sociological aspects of Attabad
Laajverd Visiting School 2014 archives
Focus Humanitarian, AKDN and Governement of GB media and datasets